At this point, Corey Haim was considered a Siamese twin to his acting counterpart, Corey Feldman. A Jerry Lewis to Haim's Dean Martin, Feldman had been in quite a few entertaining movies himself. After Lost Boys and License to Drive, the duo began launching such box office wonders as Dream a Little Dream, a farce in filmmaking that succeeded in alienating practically every teenage girl who still got misty over the duo with Feldman's bizarre Michael Jackson infatuation. Haim's character, a high school "bad boy", was paired with the Jheri-curled and moonwalking Feldman. A nation of girls thought... "what the hell...?"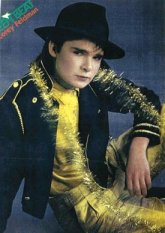 Feldman, early in his MJ fetish
Soon after this bomb, the duo entered in a strange ménage a trois, if you will, with actress Nicole Eggert of Charles in Charge fame. All of their careers floundering, they imposed upon their public Blown Away, which was not entirely bad, but perhaps a little distressing in that the formerly squeaky clean Coreys were all sweaty and doing the nasty with Eggert every chance the director could squeeze it in (no pun intended). However, if memory serves, we had all gotten a little uncomfortable dose of this in Watchers, during which Haim spent 75% of the film grabbing titty and shoving his tongue in his co-star's unmentionables. I wanted Lucas back. Sweet and funny. Awww.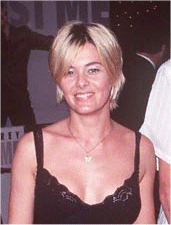 Nicole Eggert
several ass shots from a bizarre gay fan site
But I digress. Eggert and Haim later pulled off such cinematic dandies as The Double O Kid and Just One of the Girls, a "comedy" in which Corey cross dressed as a high school cheerleader to escape the school bully, and thus got to ogle soapy high school booby in the girl's locker room. Sweet! some might say. I, however, still wanted Lucas back.
A notable piece from this era was entitled National Lampoon's Last Resort. Last resort was right. I can honestly list this one on my lifetime "10 worst movies ever seen" list. Eggert was replaced with some other blonde (perhaps she had landed Baywatch at this point?) and this poor girl had to shuffle through an hour or better of Hollywood scrap heap fodder, arm in arm with both Coreys. If you want to watch a much better movie about being wasted on mind altering drugs, check out Fear and Loathing in Las Vegas. At least Hunter S. Thompson admitted he was high, thus making it part of the plot instead of of a hindrance. In Resort, the viewer has to blankly wonder if the actors, the director, or both were high, and what drug could possibly make any of them think any of it was funny. I tried pot and booze- even a vicodin didn't help me through this piece of shit movie. Now in my early twenties. I gave up on Corey Haim. And then the other day at work I was reading that tabloid...