I remember reading a year or two ago that Corey Haim had hocked his ex fiancée's engagement ring, a security camera catching the pathetic act on tape for the Star or the Globe, or something. I though, "Gee that's too bad. He was such a big star." Then when I read the Ebay thing the other day, all I could think of was this : how in the hell do you blow an entire fortune in less than ten years. This guy had to of made some serious cash when he was popular. Here are some of the unfortunate headlines I've found on the subject:
"February 8, 1993 - ARMED CONFLICT: Actor Corey Haim has been charged with pulling out a replica of a handgun during a dispute with his business manager, Los Angeles police said. The 21-year old was first arrested for investigation of making a terrorist threat, a felony, but the charges were later reduced to exhibiting a replica of a handgun in a threatening manner, a misdemeanor, police said." ~ source unknown

"Former teen age pin-up COREY HAIM is being sued for allegedly not disclosing he had been hooked on drugs and alcohol since the age of 15. It's claimed the star of THE LOST BOYS, now 24, had to pull out of his new film PARADISE BAR because of problems associated with his addiction. LLOYDS OF LONDON are now suing the Canadian actor for $375,000 because he claimed on his insurance form for the movie that he had no previous health problems. Ah Corey, we hardly knew ye."~ From Cybersleaze 7-11/96
"BELLY UP: Corey Haim, who with Corey Feldman composed one-half of that illustrious 1980s cinematic duo informally known as The Two Coreys, has filed for bankruptcy protection--listing some $640,000 in debts. Haim, now 25, enjoyed his biggest hit with the 1987 vampire flick, The Lost Boys." ~Eonline
"PLAYBOY BEAUTY'S SHOCKING CLAIM AS COREY HAIM BATTLES BACK FROM DRUGS


BUSTY blond Playboy pinup claims that former teen idol Corey Haim once brutally attacked and bloodied her. You won't hear model Cindy Guyer's story on the upcoming TV bio about Haim set to air on the E! network. But here are her shocking charges.

"Corey was having one of his raging fits," says Guyer, who dated Haim in 1999. "He started crying afterward and apologized. I should have had him thrown into jail, but I felt sorry for him. He was so pathetic."

Haim, now 29, rocketed to fame as a teen, starring with pal Corey Feldman in a string of hits, including The Lost Boys in 1987 and 1989's Dream a Little Dream.

But he plunged into the nightmare world of drugs, which is detailed in an upcoming episode of True Hollywood Stories.

Guyer, who's appeared on 2,000-plus romance novel covers and is known as the "female Fabio," says Haim was out of control when she dated him briefly.

Haim says that he has beaten his drug addiction

The troubled actor began stalking her, she says. He cornered her outside her L.A. home, flew into a rage and hurled her against her car door, gashing her chin, she claims.

"I had to drive myself to the hospital and get five stitches," says Guyer.

The beauty was so terrified of the actor she paid to send him to rehab.

"I wrote him a $2,000 check so he could check into Betty Ford," she reveals. "I paid to get this kid out of my life. He had a serious drug problem and was obsessed with me."

But Haim walked out of the clinic after just a week and began harassing her so badly, she says, "I had to change my number and tell the doorman not to let him in."

Now, Haim claims to have finally beaten his drug demons and is hoping to revive his career. "I'm not ashamed and not sorry anymore," he declares. "My goal is to stay clean and sober and get another shot in the industry."

August 2001" ~Enquirer online

"LOST BOYS' STAR IN COMA AFTER DRUG OVERDOSE - TROUBLED FORMER TEEN heartthrob Corey Haim was rushed to the hospital after a drug overdose.

The 29-year-old "Lost Boys" star, who has a history of drug abuse, was found unconscious in his Los Angeles bungalow on August 10 by his mother Judy, who immediately called an ambulance. "He'd obviously overdosed again and was in really bad shape pale and unresponsive," a family friend confides. "He looked like he was already dead by the time the ambulance got there.

"The paramedics rushed Corey to UCLA Medical Center, where the staff was able to stabilize him. But a few hours later, he slipped into a coma and was like that for most of the night. "Thank God, by morning he was slowly coming out of it."

Less than two weeks earlier, Haim landed in nearby Sherman Oaks Hospital "looking like a wild man, like he hadn't slept or showered in days," says a shocked eyewitness. His mother admits these aren't the only incidents in her son's ongoing battle with drugs.

"Corey has had other episodes of drugs," Judy explains. Sadly, Haim may not even be able to pay the hospital bill because he has no medical insurance!

"Judy was told that Corey would probably have to leave the facility sooner than he should because he has no means to pay the hospital bill," says the family friend. "But she's vowed to continue the fight to get her son off drugs for good."

-- PATRICIA SHIPP "

Published on: August 21, 2001, Star Magazine
When I went on Ebay to check and see if he was peddling his DNA still, I wasn't disappointed: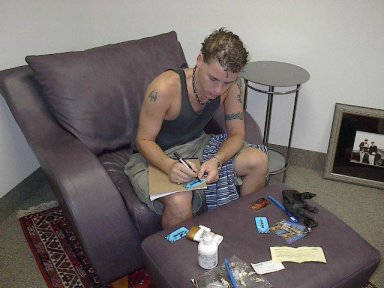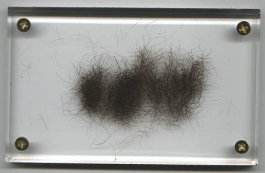 please note the splotchy nature of Haim's current hairdo... you can purchase a chunk of his hair for a minimum bid of $30! An autographed stolen hotel key goes for $20. Ebay pulled the rotten tooth auction because it prohibits the sale of "body parts"
Here's a sort of funny little story from a "former child stars" site I found:
Another One Rides the Bus
From Maurice Roy: "This happened in Montreal. It was spring 1999. I was working at a video store back then. One early afternoon, I was alone, the store was empty -- in comes a guy. He was dressed in shabby-looking -- almost dirty -- clothes. He comes up to me and presents his hand, saying 'Hi, bro, I'm Corey Haim.' ... I knew who Corey Haim was, but I figured that this was just a good look-alike who dropped by to fool me. I was like, 'Yeah, sure.' He kept insisting that he WAS Corey Haim. He even showed me I.D.!

So, OK, I thought, this is interesting. I told him that his career was 'kinda going slow,' and that my favorite movie of his was The Lost Boys. He told me that they were supposed to make a sequel, but that it never happened. I told him that he should audition for the part of the opening victim in Scream 3. He looked at me, and actually thought it was a good idea. He said he'd give it a shot.

Then he asked me for some change to take the bus home and asked me to use the phone so that he could call his mom so she could come and pick him up. He looked quite pathetic, I must say. I then asked him for an autograph for my girlfriend. He seemed quite happy to give me one.

He smiled in a funny way when I asked, 'So, how's the other Corey?' He said he didn't know. He then talked about how he had just finished working on Never Too Late and now working on a new movie here in Montreal, (and NO, it's not Dream A Little Dream III), entitled Groove Society, about the underground club scene. The premise sounded pretty good, I hope for his sake cuz this is the flick that could resurrect or destroy him.

Anyway, so that was it. My manager walked in and offered him a lift. Corey just presented me another 'later dude' handshake and gave me one of his trademark smiles. What a guy." (POSTED: 11/6/00)
To conclude, all I can say is I am truly sad. They just keep swishing down the toilet, those former role models of masculinity for my generation. River Phoenix, Michael Hutchence of INXS, Falco (Ok maybe I'm stretching it now...) all gone. Poor Corey seems hell bent on the same fate.